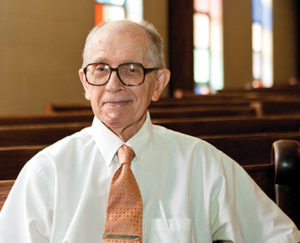 Judson mourns the passing of Professor Emeritus Dr. Stuart A. Ryder, 90. Dr. Ryder passed on May 4, 2021, after a brief illness. Lovingly known as "Doc" Ryder for decades while he was a faculty member and faculty liaison to the Judson Athletic programs, Dr. Ryder had developed long-term relationships with former students, alumni and colleagues who loved him like family and watched over him as he lived on campus over the years. Just this last July, Dr. Ryder's Judson family organized a drive by to celebrate his 90th birthday, complete with a cake and socially distanced lawn chairs so he could wave to those driving by.
Originally from Ossining, N.Y., Dr. Ryder served a church in Buffalo, N.Y., taught at the high school level, and taught at historically Black Bishop College in Dallas before coming to Judson. He began his career at Judson in 1969 as an English professor and was pivotal in developing the university's Communication Arts program, which is still thriving today. Since then, the Yale-educated professor taught Linguistics and Literature and served terms as chair of the Communication Arts Department. He was also a Cross Country coach and men's trainer before his retirement in 2003.
Dr. Ryder has written books about university namesake Adoniram Judson and Judson's first president, Dr. Benjamin P. Browne, in "Adventures in Faith." He even wrote a book to help his throngs of former students understand the ever-present question, "Why Didn't I Get an A?"
Dr. Ryder was inducted in Judson's Sports Hall of Fame in 2004. An academic scholarship was named and endowed in his honor in 2004, and he received the prized Golden Eagle Award in 2009. He was given the distinguished title of Faculty Emeritus in 2010. In 2018, Judson University bestowed a "50 Years of Service Award" on Dr. Ryder during Homecoming. The day was intended to encourage students, alumni and the Judson community to serve their community for one day in his honor.
Dr. Ryder didn't just work at Judson for decades; he lived here, on and off, for 50 years and was a longtime member of Elgin's First Presbyterian Church. He shared on-campus residence with his cat, Figaro, (one of seven cats he has had over the years – all named Figaro or Lily). Over the years, Dr. Ryder was a generous contributor to numerous building funds, student scholarships and improvement projects on campus.
"Doc Ryder's footprint can be found on every acre of this campus," noted Dr. Warren Anderson ('86), Director of the Demoss Center for Worship in the Performing Arts, a frequent beneficiary of Dr. Ryder's benevolence. "There's not an academic department, athletic team, or campus building that doesn't, in some way, testify to Doc's legacy. Once Doc arrived at Judson, he determined to plant roots and to make the Judson community his family. Generations of Judson students, faculty members, and staff colleagues mourn his loss but celebrate his immense impact on our lives."
Since retiring from the classroom, Dr. Ryder continued as an active benefactor who contributed financially to improve and enhance several areas on campus. Through his contributions, Judson was able to:
Provide Wall Signs, Benches and Lights for Hoffer Baseball Field,
Equipment for the Fitness Center,
Support for the Baseball, Men's Soccer and Softball Teams,
Dedicate the Browne Library Entrance in the Harm A. Weber Academic Center,
Purchase drapes for on and below the stage in Herrick Chapel,
Outfit Dark Room Studios A and B for the Demoss Center for Worship in the Performing Arts,
Purchase numerous instruments for the Percussion Ensemble,
Create the Edgar Boss Memorial Garden,
Support the Edgar Boss Endowed Scholarship,
Serve as a member of the Judson University Heritage Society,
Fund a Communication Arts Scholarship for minority students (future gift), and
Support Judson's new Sports Broadcasting/Sports Information minor (future gift).
UPDATE: Judson University will hold a Celebration of Life service during Homecoming this fall. A service will be held at 1:30 p.m. in Herrick Chapel on Saturday, October 2.
Share This Post: