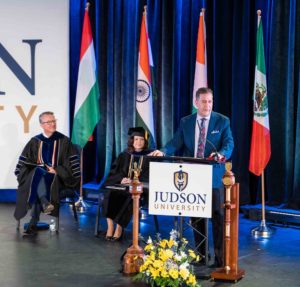 Judson University celebrated 191 graduates during the 85th commencement ceremonies on Saturday, May 8. Pastor Raul De La Matta of Love Revival Church gave the keynote address to graduates in ceremonies at 10 a.m. and 2 p.m. in Herrick Chapel (1151 N. State St., Elgin).
Pastor Raul De La Matta told graduates that as Romans 15:13 promises, God's love resides within them, every day and during difficult times. He told the story about being in a terrible car accident. While in the emergency room, he said he spoke with the Lord, who reminded him of his purpose to love his family and to love God's new church. Pastor De La Matta survived the accident and had a difficult road to full recovery. Pastor De La Matta said he relied on God's words of hope to sustain him during his recovery.
Pastor De La Matta encouraged the new graduates to rely on the Lord as they begin this new chapter in their lives. He said that today marked the beginning of their journey and though they may experience strong winds and waves, God will surround them. Pastor De La Matta reminded them that their experiences will allow them to comfort others; that their lives matter and that God will fulfill His purpose in their lives. He recounted the promise in Jeremiah 29:11 that God has a detailed plan for them, plans that give hope and that will prosper them. He concluded with, "You are not called to exist. You are called to impact this life by what God calls you to do. Keep believing (in Him) and never stop."
During the 10 a.m. commencement ceremony, 101 students graduated, including 27 from the Traditional Architecture and Art and Design programs, 8 from the Master of Architecture program, and 66 from the Division of Professional Studies programs: Masters (MBA, Master of Arts in Organizational Leadership and Master of Arts in Clinical Mental Health Counseling) and Adult Undergraduate (evening adult students) Bachelor of Arts and Associate of Arts. The families of Dallas Colburn and Nathanael Madison were present to receive their diplomas in honor of the two architecture students who passed on April 20 in a tragic accident.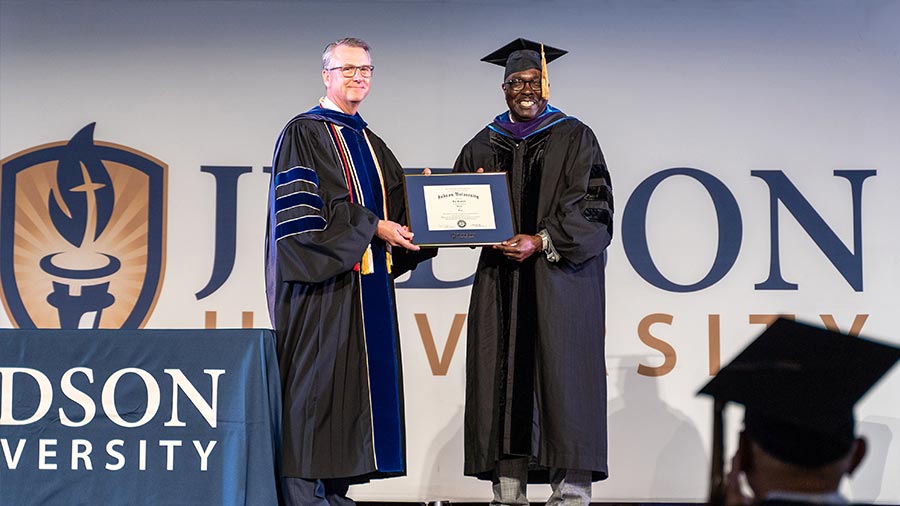 Judson also gave an honorary doctorate to Bob Kendrick, president of the Negro Leagues Baseball Museum (NLBM), a museum dedicated to preserving and honoring the talented African-Americans who made baseball history and contributed to the progress of social justice in the United States.
At the 2 p.m. commencement program, 74 students graduated from the Traditional Undergraduate program and eight from the Doctor of Education in Literacy (DLIT) program. During this service, Judson graduated eight students with a Certificate of Completion from the RISE (Road to Independent Living, Spiritual Formation and Employment) Program for students with intellectual disabilities.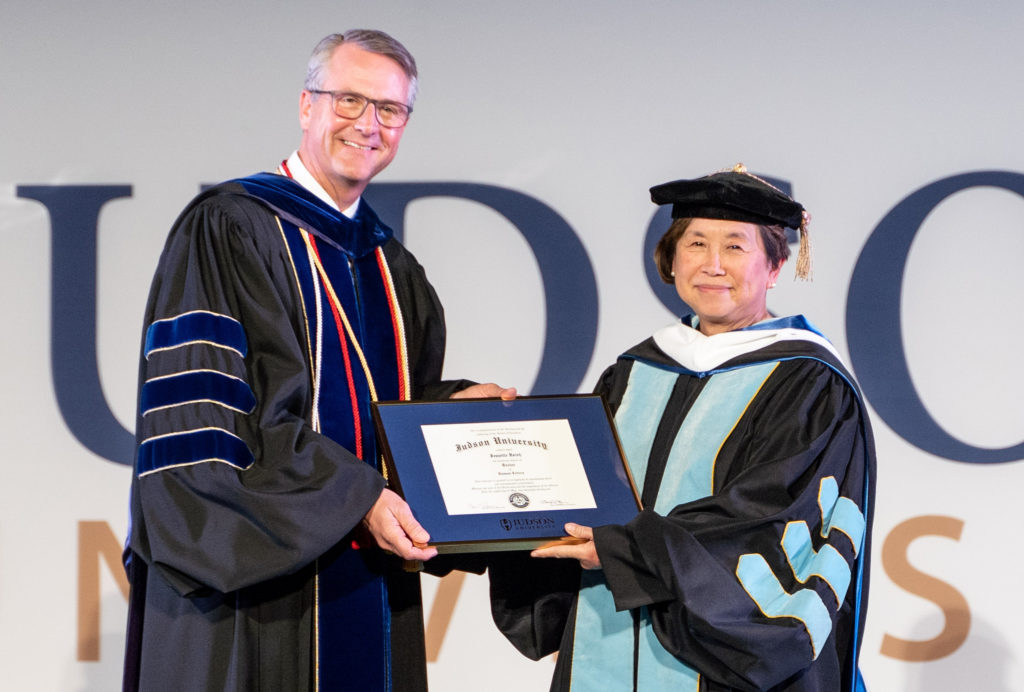 Judson also gave an honorary doctorate to Dr. Jeanette Hsieh, who serves as provost emerita and dean emerita at Trinity International University. Dr. Hsieh has a long and rich history of developing and leading in the educational fields. She blessed Judson University with her leadership as the director of teacher education and developed three different programs. She and the late Professor Ted Hsieh were house parents at Wilson Hall for several years during her time at Judson.
Distinguished academic awards for excellence and leadership were presented to the following students:
Nicolette Dobson of Carpentersville, Ill., is a Biology and Chemistry major graduate who has served in several key leadership roles. She was awarded the Student Service Award, which is presented to the graduating senior who best exemplifies sincerity and dedication to Christ, excellence in academic achievement, and dedication to the goals and mission of Judson University. During her time at Judson, she was a Dean's List Honoree and an integral part of the Track and Field program. She served as a student government specialist, leading town halls and reporting concerns to staff members, as the Commuter President, creating events for commuters and implementing a commuter lounge on campus for commuter students, and in the last school year, has served as the Student Body President on campus. Some key initiatives Nicolette lead in her time as Student Body President include implementing and hosting Judson's first-ever celebratory week honoring People of Color at Judson University. Nicolette also volunteers at the AMITA Health Mammography Department and is active in her church with small groups and Bible study.
Christopher Veltkamp of Streamwood, Ill., is a Biochemistry major graduate. He was honored with the President's Scholar Award-Traditional Undergraduate, which is Judson's highest recognition for scholarship and is awarded to the graduating senior in the Traditional Program who has demonstrated distinguished academic achievement in the context of a Christian liberal arts program. During his time at Judson, Veltkamp has been on the Dean's List every semester while successfully competing on the Tennis team. He was named the Judson Student-Athlete He supported the Department of Science and Mathematics as the JSO STEM student advocate, a Biology, Chemistry, and Calculus tutor, and a laboratory assistant for Human Anatomy, Biology, and Microbiology. He also has volunteered with Phil's Friends, a Christ-centered support group for those affected by cancer.
Both Commencement services were broadcast on Judson's Facebook page and the university's YouTube Channel.
Photos by Kevin Sherman Photography for Judson University.
Share This Post: