The Judson University's Annual Community Prayer Breakfast brought together nearly 180 people to Herrick Chapel and the Reed Room in Lindner Tower, two locations on Judson's Elgin campus to celebrate community volunteers and consider the theme of "Restoration" during 2021 event.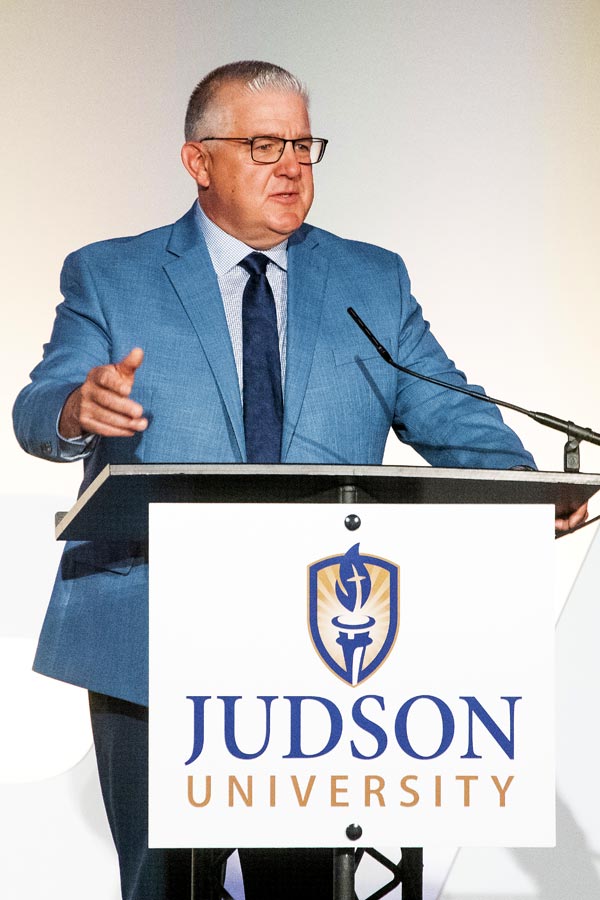 Community members, including local dignitaries, civic leaders and church leaders, came together to enjoy Christian fellowship, honor peers with service awards and hear from the morning's guest speaker, Jeff Miller, the Schaumburg business owner of Divine Signs. Miller shared about his experience of surviving United Flight 232, which attempted to make an emergency landing in Sioux City, Iowa, that killed 112 passengers of the 296 onboard.
"I believe that the only reason I survived that crash was to be here this morning," said Miller. Miller recounted how he hadn't expected to be on the plane that day. In July of 1989, he and his wife and young children were vacationing in Colorado when his grandfather died unexpectedly. He quickly found a flight to Chicago to attend his grandfather's wake and funeral with plans of returning to Colorado to drive home with his family.
While on the flight bound for Chicago, Miller remembered that a terrible explosion in the tail engine sounded like a terrorist bomb. Debris from the engine severed all of the hydraulic steering systems. While he worried about how to continue onto Chicago despite what would inevitably lead to a delay, Miller said that the pilots were working to control the plane using gravity and thrust from the wing engines to keep the plane airborne until it could make an emergency landing in Sioux City. When the plane attempted to land in Sioux City, Miller said the right wing dropped, clipped the ground, and caused the airliner to summersault and stop in a fiery crash. Miller's section of the plane landed 60 feet down the runway and he hung upside down by his safety belt until he was released by another passenger.
Later, Miller noted, one of the pilots said that he was amazed that the DC-10 had not simply fallen from the sky. The pilot shared that he believed some force was guiding the plane after the explosion.
For Miller, already a Christian who had committed his life to Jesus, he was reminded of God's peace that passes all understanding.
"That crash and the plane crashes that we have experienced as a family since then, rushed through me like a river. God's peace was refreshing to me when it seemed like nothing could be refreshed," Miller said. Through that crash, Miller said he realized that he wanted to always cling to God's peace and to send out hope to others.
"Hope is a difference-maker," he noted. Miller said he has found hope in the victory of the cross. "God's ultimate gift of sacrifice, the giving of his son for our sins; the light and hope for this world today," he said. While that hope cannot be found in politics, social media or schools, it can be found in Christians who share that hope, he said.
In the 30 years since the accident, Miller has told his story to many groups and has found that his story is one of hope for ourselves and hope that can sustain future generations in a culture that so often is filled with hopelessness. Miller challenged attendees to be the agents of hope and to spread like a wildfire.
The Annual Community Prayer Breakfast included reflective guitar music performed by Judson Alumnus Josh Lasota. The theme of restoration was part Judson's theme for the year and fit into plans made by its Spiritual Council and Diversity Committee. "Restoration" was also part of the prayer emphasis as guests were invited to pray by individual tables for the community.
This year's D. Ray Wilson Volunteer Service Award recipient was Dr. David Sam, president of Elgin Community College and has volunteered on boards for the Elgin Area Chamber of Commerce, United Way of Elgin, Greater Elgin Area YMCA and AMITA Presence St. Joseph Hospital. He is a founding member of the Alignment Collaborative for Education. He also serves on the Rotary Club of Elgin and a number of workforce and education advisory committees at the local, regional, state and federal level. He has received more than 20 awards and honors for his leadership within the higher education and community college arena as well as received many recognitions for his service. Under his leadership, ECC has been recognized for its many achievements and innovations. Dr. Sam is an enthusiastic donor to many charities. He seeks numerous ways to support low-income students and residents and financially supports two endowed scholarships with the Elgin Community College Foundation.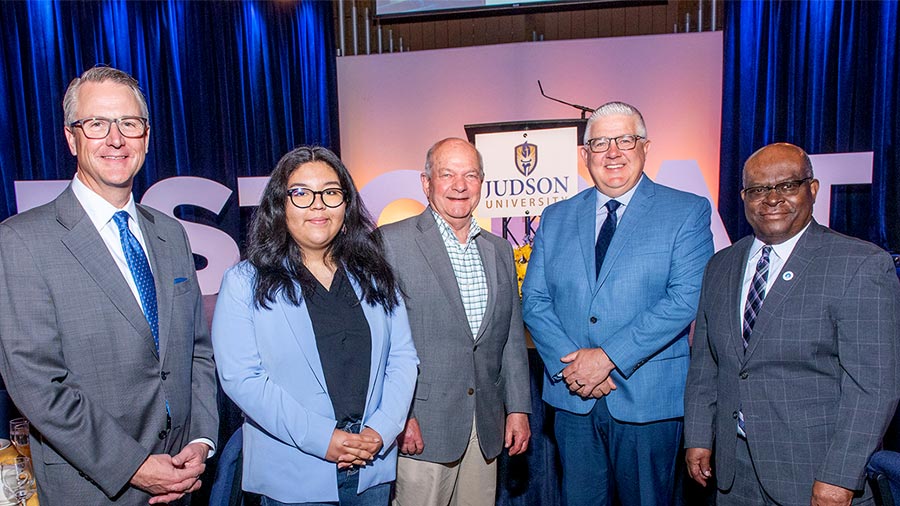 When accepting the award, Dr. Sam expressed his appreciation to the many community groups that accepted him when he joined ECC in 2007 as president. He also thanked many members of the ECC board, faculty and staff for their support.
Judson's Bea Wilson Youth Volunteer Service Award honors school-aged youth in the Fox Valley who give back to their community. This year's recipient is Abigail Estrada, a senior in the World Language International Studies Academy at Streamwood High School. She is president of the Girl Up Chicago Coalition in which she works with other Girl Up Clubs in the area to spark change. This year, Abigail organized a Girl Up Summit for the Chicago region. She is also the co-chair of women's rights for the United Nations Association Coalition of Chicago, participates in Running Start High School Program to teach young girls about government, and is part of the Let's Move Elgin Youth Board. Abigail also is a youth census committee member and has worked on the Martin Luther King Planning and the City of Elgin's Human Relations Committee.
Photos by James Harvey, courtesy of Judson University.
Share This Post: