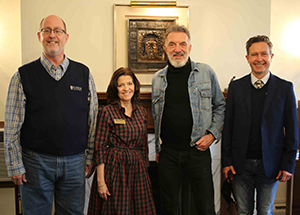 Judson University's Demoss Center for Worship in the Performing Arts (DCWPA) is pleased to announce an exclusive partnership with Dark Horse Recording/Dark Horse Institute of Franklin, Tenn., one of the world's premier recording studios.
In an exclusive agreement signed earlier this month by Judson's Provost, Dr. Gillian Stewart-Wells and Dark Horse founder Robin Crow, Judson's senior Music Business and Entrepreneurship (MB&E) students will spend their final semester in Nashville, taking classes at Dark Horse Institute and rubbing shoulders with major music-industry performers recording at Dark Horse Studio. As part of the agreement, no other university in the Midwest will be able to offer a similar partnership with Dark Horse for 15 years.
"With this arrangement, Judson's MB&E students now have an even more direct route to the Nashville industry courtesy of one of the most exciting and top-notch studios in the world," said Dr. Robert Kania, Chair of the Music Department at Judson.
Judson's music business seniors will take one of three tracks at the Institute: one focused on audio engineering, another geared toward music business careers, or a brand-new one coming in the fall dedicated to songwriting and composition.
"This is truly an extraordinary opportunity for our students. Dark Horse Recording has been recognized as one of the most successful recording studios in the world and many students finishing Dark Horse Institute end up interning for and working with the artists who have recorded at Dark Horse. Some of the artists that produced their albums at Dark Horse include Taylor Swift, Keith Urban, Carrie Underwood, Tim McGraw, Faith Hill to name just a few," Kania said.
Robin Crow traveled to Judson for the signing and shared stories from his long career with DCWPA students and faculty, who responded favorably to the specifics of the curriculum at Dark Horse.
"The program at Dark Horse is exactly what I am looking for at the end of my studies here at Judson," noted Gene Crume III, a senior MB&E student from West Dundee, Ill. "I'm beyond excited for this partnership!"
In like manner, Crow appreciated the practical nature of Judson's curriculum, which gives incoming MB&E freshmen hands-on experience with studio gear their very first semester.
"We recently had a student at the Institute who had just finished a music engineering degree from [a well-known music school] tell us that he did more in his first week with us than he had done in his first three and a half years at [his school]. I appreciate Judson students diving in right off the bat," stated Crow.
More details on Dark Horse Institute can be found at darkhorseinstitute.com.
Share This Post: