Actor and Entrepreneur Terrence Howard is the featured guest for the second Conversations with Mark Vargas taking place on July 9 at Judson University in Elgin. Judson alumnus Mark Vargas '04 will host a discussion with Howard about life, business, and finding inspiration.
"The world knows Terrence Howard as an actor who's starred in some of the biggest films and television shows in Hollywood. But more than an actor, he's also an entrepreneur and an inventor," said Judson President Dr. Gene Crume. "We look forward to learning more about this next chapter in Terrence's already impressive career."
"I look forward to an entertaining and thoughtful conversation with Terrence Howard," said Mark Vargas. "There's no doubt that Terrence is an A-list Hollywood celebrity, but he's known there's more to life than just acting. And I look forward to talking with him about that in more detail. The audience will walk away inspired – that I can guarantee."
The interview with Howard is the second event for the World Leaders Forum series, Conversations with Mark Vargas, where Vargas invites some of the most recognizable names in business, entertainment, and politics. The 2019 inaugural guest was entrepreneur and "Shark Tank" star Mark Cuban. Sponsors will be invited to attend a private dinner reception with Howard.
Proceeds from this event will fund entrepreneurship, diversity, and RISE program scholarships for students at Judson University. The event will begin at 3 p.m. at the Herrick Chapel on Judson's campus. VIP ticket purchasers will receive a meet-and-greet photo opportunity with Howard following the event.
Tickets are available to the public starting June 2, 2021. For ticketing and sponsorship information, visit https://2021wlfconversations.eventbrite.com
About Terrence Howard
Terrence Howard is a well-respected actor, musician, producer, philanthropist, entrepreneur, and inventor. Born in Chicago, Howard is best known for his Golden Globe Award and Academy Award-nominated work in "Hustle & Flow," as well as for his supporting role in the film "Crash," among many other notable films and television shows.
Howard starred as "Lucious Lyon" in Fox's "Empire" television show. "Empire" is a hip hop family project from Lee Daniels and Danny Strong which co-starred Taraji P. Henson and Gabourey Sidibe, and ran for seven seasons. Howard also recently starred in Fox's Wayward "Pines," a 10-episode psychological thriller from EP M. Night Shyamalan.
Howard made his feature film debut in the 1993 movie "Who's the Man?" In 1999, he was honored with the NAACP Image Award for Outstanding Supporting Actor. Additional film credits include Howard's portrayal of Nelson Mandela, opposite Jennifer Hudson, in the film "Winnie," his starring role alongside Cuba Gooding Jr. and Bryan Cranston in George Lucas' Red Tails, as well as "Valerie Flake," "Best Laid Plans," the Academy-Award nominated "Ray," "Pride," "Get Rich or Die Tryin'," "The Brave One," and "August Rush."
Howard began his career with several notable TV appearances on shows such as "Living Single," "NYPD Blue," and "Soul Food." He became well known for his lead role in the UPN series "Sparks." Howard also won an NAACP Image Award in 2011 for Outstanding Supporting Actor in a Drama Series for "Law and Order: Los Angeles."
A self-taught musician, Howard writes, composes, and produces music including "What the DJ Spins," a hit featured on "Empire." He also displayed his musical talents in "Ray" as Ray Charles' one-time guitarist, Gossie McKee, and in "Hustle & Flow," as rapper "Djay," in which Howard performed all the tracks for his character, including "It's Hard Out Here for A Pimp," which won the Academy Award for Best Original Song. Additionally, his debut album, "Shine Through It," was released in September 2008.
Howard resides in Philadelphia, Pa. The father of five has a strong interest in science and more than 70 design, trademark, and utility patents pending. These are based on his scientific research and pursuits with applications in most industries at all scales from material, energy, and propulsion sciences, nano-tech, and computing, as well as large-scale space and or Earthly construction projects, including 4D geospatial mapping and future environmental and terraforming services. He is also an artist, and he creates incredible light sculptures influenced by sacred geometry.
About Mark Vargas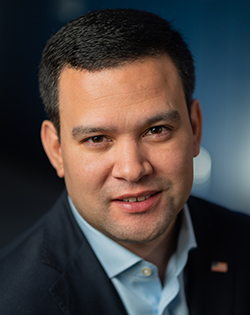 Mark Vargas is a trusted adviser and close confidante to some of America's most high-profile political and business leaders. His work as a tech entrepreneur in health care and as a political opinion writer has been featured in the Chicago Sun-Times, Chicago Tribune, Daily Herald, Huffington Post, and Fox News.
From 2007 to 2010, Vargas served as a civilian within the Office of the Secretary of Defense on a special task force focused on rebuilding war-torn economies through foreign and private investment. In 2009, he was awarded the Global War on Terrorism Civilian Service medal. His civilian service at the Defense Department included 14 trips to Baghdad and expanded across two presidential administrations. He earned his Bachelor of Arts degree from Judson University, where he served as student body president.
Share This Post: